As the leader of the virtuous you will be adored for your strength, success, and service to the people. Where there are those who wish to pirate and kill the innocent, your strength is needed to provide safety to the community. By helping the community you will build a reputation that may allow you to gain all the riches you seek while being adored by all that walk in your shadow.
Join the Alliance

Many societies and collectives of avatars in the Entropia Universe work together to protect the community as they travel through the dangers of space. Space in the Entropia Universe is a dangerous place, where you may be killed and looted for your materials worth real world cash. With this threat there are merchants, and travelers who need your protection! Captain a mothership and manage a battle hardened crew that will allow you to safely transport the colonists from planet to planet, or to seek out the exotic creatures that live in space and hold unknown treasures. Only with the trust of the community will you gain their favor, and with this you may earn real world cash in the virtual world.
PVP Zones
Some of the most valuable mining resources are found in Toxic Zones, in these areas miners risk their lives and their resources to turn a profit and they need your protection! As a battle hardened soldier whose used to dealing with the manhunters, your skills and expertise is needed to support those who wish to gain riches in the toxic zones. Partner up with an experienced miner and work together against the thieves to build your wealth and reputation.
Be the Example
Building your gear and your skills will allow you to be come the strongest of the strong should you find the determination. Share your sucesses in loot and experience with the community by streaming live or making videos for others to learn from. The strongest and most known soldiers of the Entropia Universe are looked up to by every newcommer, be the next to inspire the community!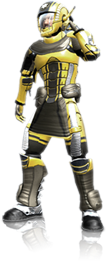 Teach your Diciples
The Entropia Universe offers a dynamic mentoring system. Take diciples under your wing and help them to find their way, once they have graduated with the proper footing you have given them you will be rewarded for your efforts. Obtain valuable mentor edition equipment that shows your knowledge and your willingness to help the community.
LETS GET THIS STARTED